Dr. Ron Jenson, Co-Founder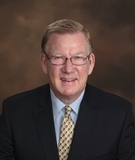 Dr. Jenson's research in the field of leadership spans 35 years, during which time he has interviewed over 1,000 international leaders in a variety of corporate, government, educational, and non-profit executive positions. Dr. Jenson is the primary spokesperson for Future Achievement International and continues to be one of the most sought after speakers in the world on the subjects of Authentic Success and Authentic Leadership. Dr. Jenson is an author of several books and audio recordings. His most popular book, Achieving Authentic Success, has been published in multiple languages and has sold over 350,000 copies worldwide.
Dr. Jenson appears at corporate events, business conventions, public seminars and workshops nationally and internationally on behalf of Future Achievement International. Dr. Jenson brings a wealth of relationships with leaders and organizations to assist in the sales and distribution of educational products and training services worldwide. Dr. Jenson works closely with the President to secure strategic partnerships and alliances that create channels of distribution for the Company.

Dr. Ron Jenson is an internationally known author, speaker, executive life coach and interviewer of hundreds of top leaders in the areas of leadership, life success, and influence. Dr. Jenson spent eight years as President of an international school where he helped build campuses in Asia, Africa and the United States. Dr. Jenson has traveled around the world annually for 25 years and has spoken to groups including top Parliament Members in Uganda, 20,000 business people in India and corporate and institutional leaders in the United States, Latin America and Europe.